Axa Mbask Sığorta | About Company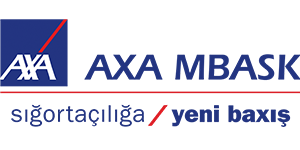 ---
Nobel prospekti 15, Azure Biznes Mərkəzi, Bakı, Azərbaycan
MBASK Insurance Company has been operating since 1992 and it is one of the first private companies in independent Azerbaijan. Since 1992 till 1996 was the period of formation of an insurance market of Azerbaijan. During this time, MBASK has managed to form a professional collective despite of limited market opportunities and now has a license to implement 29 types of insurance.
2005, for the first time in the history of the Insurance Market of Azerbaijan, European Bank for Reconstruction and Development bought 30 % shares of MBASK Insurance Company and became a shareholder of a local insurance company.
In 2006-2007, independent market research has recognized MBASK as the most popular and credible insurance company in public.
MBASK Insurance Company successfully passed certification of quality management system in 2004. Experts of Moody International have participated as auditors of the company. Based on the audit results MBASK Insurance Company was awarded a respective certificate. During three years the company has complied with all necessary quality standards, which is reflected in the year-end approval of that certificate.
In December 2007, Moody International's specialists conducted following audit of the MBASK Insurance Company's quality management system and confirmed their compliance with ISO 9001: 2000 quality management requirements..
Based on the results of 2007 MBASK Insurance Company took the first place among the private companies in Azerbaijan on the total volume of collected insurance premiums.
On October 14, 2010 "AXA GROUP", one of the largest Insurance Companies in the world, acquired major controlling interest (51 %) of "MBASK" Insurance Company shares through "AXA Seguros Generales, S.A., De Seguros Y Reaseguros" (Spain), its affiliated society.
AXA Group is one of the largest insurance companies in the world and
According to Best Global Brands 2016 rating AXA brand has been ranked the world's number one insurance brand for the 8th consecutive year. AXA is operating in 64 countries, mainly in Western Europe, North America, Asia and Pacific Region and Middle East. Over 166,000 people are employed by the Group and it has 103,000,000 clients all over the world. The Group consists of five operational business segments – Life and Deposit Insurance, Property Insurance and Personal Accident Insurance, International Insurance (including reinsurance), Asset Management as well as other financial services.
MBASK license renewed on November 29, 2010 related to changing company's name to AXA MBASK.