Mega Sığorta | About Company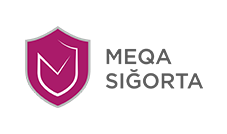 ---
AZ1052, Ə.Rəcəbli küçəsi, 19A, Bakı, Azərbaycan
Meqa Insurance OJSC started its operations in October 2010. Successfully progressing among 28 insurance companies and occupied a worthy place among the leading insurance companies. "Meqa Insurance" OJSC was granted an unlimited license (No. 000587) by the Ministry of Finance in 2012. The company was awarded the ISO 9001: 2008 quality standards in the same year and successfully renewed in 2013. Mega Sigorta OJSC provides services on 30 types of voluntary and 3 types of compulsory insurance under the relevant licenses and cooperates with leading international insurance and reinsurance companies.
From March 28, 2012 "Meqa Insurance" OJSC has been involved in the Register of Participant Insurers of Compulsory Insurance Bureau for providing services on compulsory insurance. Head office of the "Meqa Insurance" OJSC is located in Baku and has operating branches in 16 regions of the Republic of Azerbaijan: Sumgayit, Sahil, Agjabedi, North, Khachmaz, Khudat, Shamakhi, Shirvan, Sheki, Shamkir, Mingachevir, Ganja, Zagatala, Lankaran, South and Aghsu. Recently, the "Center" branch of the company has started its activity in Baku. More than 100 employees work in the "Mega insurance".
Mega Insurance Company was selected among the insurance companies in 2013 and was awarded the title of "The Most Developing Insurance Company" for the purpose of increasing customer satisfaction in the insurance market, and as a result, Mega Insurance OJSC awarded the UGUR Prize in 2014 has been submitted. The company has suffered severe short-term results and has gained popularity by its customers as a quality service provider and reliable insurance provider. The company has been awarded the European Quality Award for achieving high achievements in quality management, product and service development in accordance with European standards in 2015. Mega Insurance Company is constantly working to increase customer satisfaction while notably raising its service level. In that year he was awarded the Swiss Quality Management Certificate ISO-9001 by SGS. From June 2016 Mega Insurance became a member of the American Chamber of Commerce in Azerbaijan.